BackOps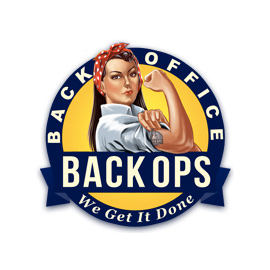 Backops is powered by dedicated financial professionals with over 200 years of back office experience.
BackOps
Accounting
Simplifying the way you see your company's data, a consistent and turnkey approach to numbers.
Mandate a seamless accounting infrastructure. Including chart of accounts, bank accounts, and systems
We keep you compliant With various regulatory agencies, handling your tax filings, audit prep, 1099s and W-2s.
Manage the monthly maintenance so you don't have to From collections, expense reports, bank reconciliations, financial statements, and month-end close: no fuss when you have us
We keep you informed Weekly updates are sent out with everything you need to know in a clean and easy-to-follow format.
Human resources
The execution of your ideas into reality, building you a great team through successful integration of HR necessities
One-stop shop For recruiting and immigration management, alongside employment agreements and new hires to get your team on-boarded promptly
We keep your employees happy Handling Payroll, stock options, benefits, and PTO
Adamant on keeping you compliant On a regular basis as it pertains to employee documentation, insurance, and payroll
Team-focused management Including performance reviews, terminations, and employee relations
Finance
The creation of analysis tools to successfully manage your business
We enable financial planning and budgeting with variance reporting and custom financial statements
Guidance for board meeting prep, keeping you informed on all data
Handle all cash management for your accounts
Your ops team
Get to know the assembled team for each and every one of your needs. We break everything down on a tier-level basis, and get everything done-fast!
HUMAN RESOURCES
Manager: Handles your payroll, benefits, new hires and termination paperwork and employee documentation
Director: Takes care of headcount plan, recruiting, immigration visas, performance evaluations, and employment agreement drafting
Vice President: Manages EDD defense, benefits audits, and HR Policy reviews
ACCOUNTING
Bookkeepers: Executes bank reconciliations, expense report processing, and bill payment
Controllers: Completes A/P and A/R management, month end close, chart of accounts management, and cash management
CPA: Heads revenue recognition, tax or IRS related projects
FINANCE
Director: Manages your budgeting and planning, monthly variance reports, and waterfall charts
CFO: Handles your monthly CFO report and board meeting prep
Your business at your fingertips
Manage your back office in 15 minutes a week!
Real-time financial and people reporting
Burnrate, revenue and financial tracking
Online bill pay
KPIs to track your progress and metrics
Your back office team always a Skype or click away
Paperless portals
FOR YOUR EMPLOYEES
Sign up new employees to payroll, benefits and more
Automated expense reporting
Employee communications
Benefits management
HR experts always a Skype or click away
FOR YOUR VENDORS
Optimize your funds, automatically paying when you have to and not before
Reduce drudgery and always have real-time status
Improve vendor satisfaction and communications
Bookkeeping experts always a Skype or click away
Secured and protected
Your information is secure and password protected. Our virtual and secure automated backend environment integrates the leading financial and human resource tools through sophisticated dashboards and processes.
We have processed tens of thousands of transactions with many companies over the years and are committed to our best of class approach to security, privacy and customer respect.
Our team members are rigorously background checked, qualified with over 10 years of experience, trained, put through peer reviews and customer scored.
Cost
BackOps is a web-enabled paperless back office staffed with national experts that's efficient, 1/2 the cost of hiring traditional outsourcing firms and 1/3 the cost to internally staff
Fees start at $750/month for both accounting and human resources. Our fee structure is based on the number of employees we serve and the number of transactions we process
Because we don't charge by the hour and look to automate wherever possible, we are more efficient. This efficiency saves our customers time to oversee their back office.
Backops is powered by dedicated financial professionals with over 200 years of back office experience.
Ready to find your own .CO?
Don't let this shiny search bar go to waste!