LivePlan by Palo Alto Software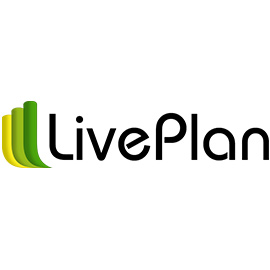 Makers of the #1 selling business planning software in the world, we develop tools and content to help small and mid-sized businesses pitch, plan, manage and grow their ventures. LivePlan, our flagship product, is a SaaS (software as a service) solution f
LivePlan by Palo Alto Software
Pitch for funding
Stand out from the crowd with a professional info-graphic that tells the story of your business.
Highlight the most important parts of your business on a single page.
LivePlan walks you through your plan, step-by-step, so you can focus on your business strategy, not the formatting of your business plan.
No more worrying about financials
Calculations are done behind the scenes as you fill out your plan. LivePlan does the math so you don't have to.
Sync with QuickBooks for quick performance updates
If you are a QuickBooks user, you can import your data to make tracking and managing your business easy.
Easy Team Collaboration
Invite your team to contribute or read your plans. LivePlan makes it easy to manage permissions, even if you have multiple partners or multiple plans.
Makers of the #1 selling business planning software in the world, we develop tools and content to help small and mid-sized businesses pitch, plan, manage and grow their ventures. LivePlan, our flagship product, is a SaaS (software as a service) solution for pitch creation, business planning, and ongoing financial management. LivePlan guides you through building a comprehensive business plan and a infographic pitch; it also analyzes accounting information in real-time to provide just the right data to keep your business on track, with actionable business insights to ensure you maintain a healthy cash flow as your business grows. LivePlan, is the first online business planning and management software that was created by actual business planning experts. Backed by close to 30 years of experience in software and planning, no other online business planning solution comes close to our level of professionalism and expertise. Palo Alto Software's initial business planning product, the Windows-based Business Plan Pro, has outsold the combined competition for the last decade. We have been the market leader in this category for over 15 years, have served well over 1 million entrepreneurs, and have a fan-base of customers in 180 countries.
Ready to find your own .CO?
Don't let this shiny search bar go to waste!