O'Reilly Media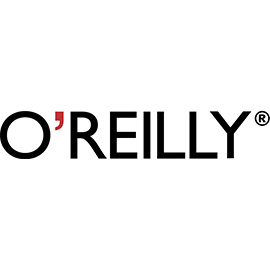 O'Reilly Media spreads the knowledge of innovators through its books, online services, magazines, research, and conferences. Since 1978, O'Reilly has been a chronicler and catalyst of leading-edge development, homing in on the technology trends that reall
O'Reilly Media
PRINT BOOKS
Free shipping within the US for orders totalling $29.95 or more.
EBOOKS
Whenever possible we provide them to you in five DRM-free file formats — PDF, ePub, Kindle-compatible .mobi, DAISY, and Android .apk — that you can use on the devices of your choice.
Our ebooks are enhanced with color images, even when the print version is black and white. They are fully searchable, and you can cut-and-paste and print them. We also alert you when we've updated your ebooks with corrections and additions.
Laptop or desktop computer — Get either the ePub or PDF.
iPad — Download the ePub or the PDF and read it on your iPad.
iPhone, iPod touch — Grab the ePub or PDF and read it in iBooks or the reader of your choice.
Kindle — Get the Mobi file and load it onto your Kindle.
Android — Read the .apk or ePub on your favorite reader, or download the ePub directly to your device.
Sony Reader — ePubs work well on your Sony Reader.
Windows Phone 7 — Read the ePub, Mobi, or PDF on the ebook reader of your choice.
Other Mobile Devices — Explore the ePub with the mobile version of Bookworm.
O'Reilly Media spreads the knowledge of innovators through its books, online services, magazines, research, and conferences. Since 1978, O'Reilly has been a chronicler and catalyst of leading-edge development, homing in on the technology trends that really matter and galvanizing their adoption by amplifying "faint signals" from the alpha geeks who are creating the future. An active participant in the technology community, the company has a long history of advocacy, meme-making, and evangelism. Publisher of the iconic "animal books" for software developers, creator of the first commercial website (GNN), organizer of the summit meeting that gave the open source software movement its name, and prime instigator of the DIY revolution through its Make magazine, O'Reilly continues to concoct new ways to connect people with the information they need. O'Reilly conferences and summits bring alpha geeks and forward-thinking business leaders together to shape the revolutionary ideas that spark new industries. Long the information source of choice for technologists, the company now also delivers the knowledge of expert early adopters to everyday computer users. Whether it's delivered in print, online, or in person, everything O'Reilly produces reflects the company's unshakeable belief in the power of information to spur innovation.
Ready to find your own .CO?
Don't let this shiny search bar go to waste!