WebEngage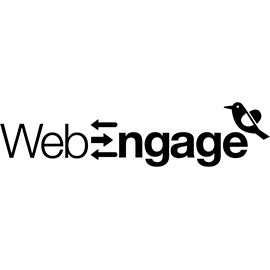 WebEngage is the most powerful in-site customer engagement suite or your website.Feedback: Collect feedback through an embedded form or a Feedback tab on your website. The cool auto screen grab feature helps in reporting UI bugs.Survey: Recently r
WebEngage
30% off the first 12 months. Get an additional 20% off on yearly subscriptions.
WebEngage is the most powerful in-site customer engagement suite or your website. Feedback: Collect feedback through an embedded form or a Feedback tab on your website. The cool auto screen grab feature helps in reporting UI bugs. Survey: Recently re-designed your website or launched a new product? Get awesome customer insights from your visitors in real-time. Understand who your real visitors are, get insights, generate leads and more! Notification: WebEngage makes it super easy to push messages to your website visitors in real-time. Be it popping a discount code to people who are "most likely" to purchase or announcing a site downtime for next week. Increase conversion rates and sell more. Targeting Rules: Surveys and Notifications can be targeted to a specific audience. For example, "show this survey to visitors coming from Google Search who have spent 30 seconds on my pricing page." or target lead generation surveys only to your SEM traffic. Seamless one-time integration. No code changes ever.
Ready to find your own .CO?
Don't let this shiny search bar go to waste!